Advice and Tips
Module 1 – What are you good at?
When you're about to begin a job search, start by making a list of all the things you're good at. Why do this? Because putting a little effort into thinking hard about what you can do will help you a lot when looking for a job.
What are you good at?
The idea that you should be aware of your own talents and skills may seem obvious to you. Yet the truth is that people often underestimate themselves. So when you're getting ready to look for a job, what you should work on first is putting what you're good at into words. Because taking the time to make this effort will help you a lot.

It's not always easy for us to define or describe our competency. But if you're ready to take a deep breath and jump in, we'll help you articulate what you're good at doing. And remember, you've got a lot more going for you than you think.
What do we mean by competency?
Competency is knowledge (to know), skills (to be able to do), talents (to be talented at something) and attitudes (to wish and want) that make it possible to perform functions and tasks in accordance with defined requirements and goals. (Linda Lai, 1997)

A career is a spectrum of personal and professional learning possibilities. This means that over the course of your lifetime, you'll have to make a number of choices. In order to make good choices, it's important to spend some time on self-reflection. Try to find out what values are important for you in order for you to achieve work-life balance and career-related goals.

In this first module we're asking you to describe your competency in words. You start by mapping it in detail through including your formal education and all other relevant experience.

Competency is comprised of both formal competency (usually education) and informal competency (work/life experience), a combination that is yours and yours alone.



Competency can be divided into six areas: 
Task-oriented competency: Includes professional and interdisciplinary competency, project work, quality of work, etc. 
Job mastery competency: Operative competency beyond one's area of expertise that includes the ability to set goals, prioritize tasks, make decisions, keep up with the work pace and keep a lot of balls in the air at the same time.
Organizational competency: Knowledge of internal power relationships, personal knowledge, skilled at leading internal breakthrough change.
Business competency: Knowledge of branch, customers and suppliers, other important related groups and media management.
Relationship competency: Ability to communicate, cooperate, create trust, initiate contact, motivate and teach others.
Meta-competency: Systematics, creativity, flexibility, ability to learn quickly and make decisions, logical thinking and analytical skills.
(Löwendahl)
Exercise: Map your competency areas Many Tekna members think about competency too narrowly, believing the term means only a discipline and/or area of expertise. Yet it's a good idea to be aware of your own competency areas as this will help you raise your own consciousness level and provide you with a means to express yourself about what you're good at in a precise way.

The vast majority of people have several areas of expertise in addition to having broad (or generalist-level) competency in other areas. They've also acquired a high level of competency from their experience with working forms/processes and working for different companies/organizations.

What to do:
First step: Start the exercise by writing down «everything you've ever done» on the form below (or a separate document). Write down what you're good at doing in a "competency bank" that contains every job you've ever had, your experience and acquired skills. While this seems like a tough job and takes awhile to get done, it's a good way to invest in yourself and your future.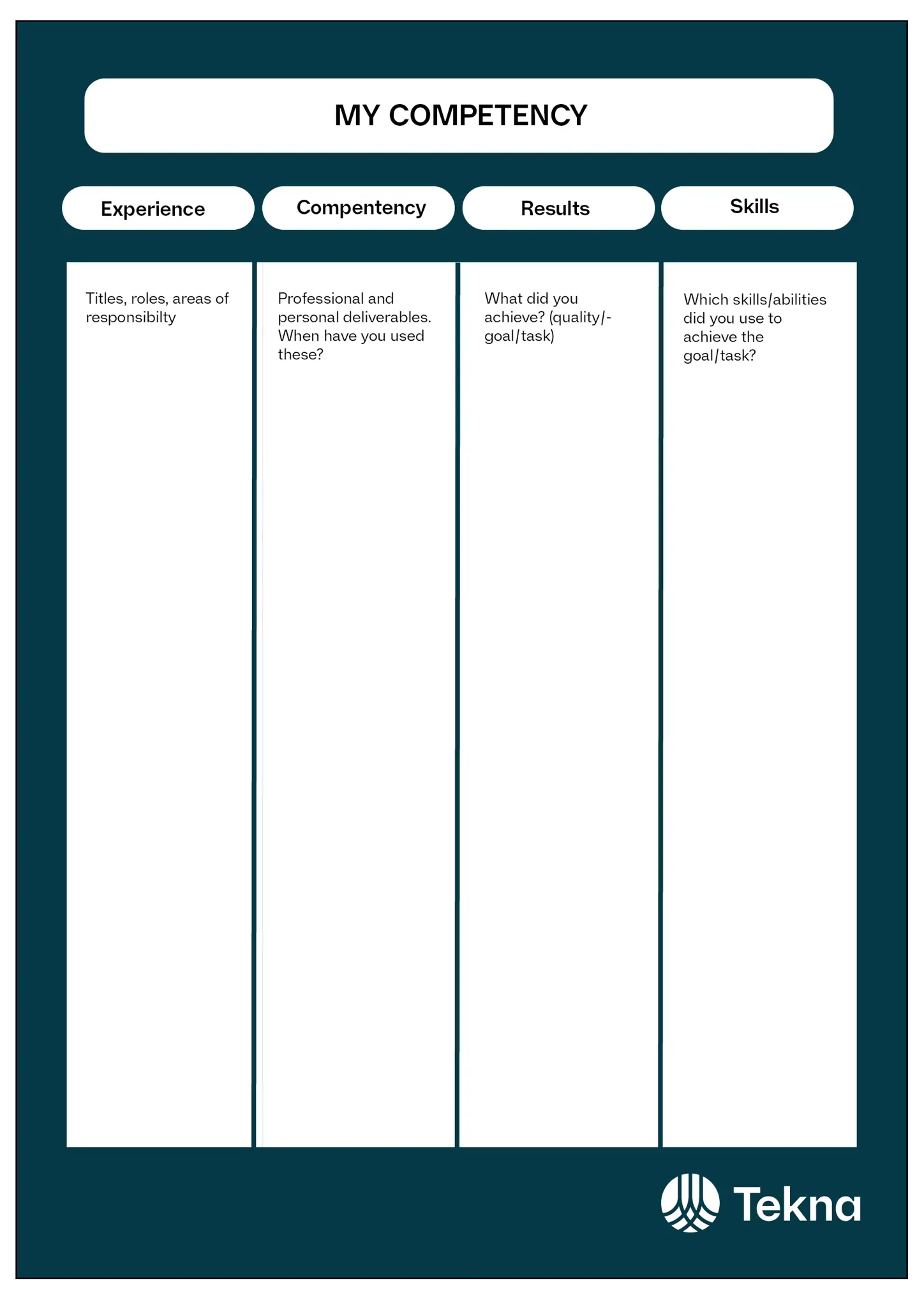 Download a larger version of this worksheet

Advice to get started: Try using your current CV as a starting point. Think about everything you've done and everywhere you've worked, going back to when you were a student and including all your jobs and other work-related experiences. Think about different areas you've worked in, assignments you've had, challenges you've solved, etc.  

Experience:
Write down all the jobs/work tasks you've ever had, including short-term/temporary assignments and projects.

For example: Everyone who's worked on a project (no matter what size) can include this experience on their CV. When you list a project, you should then go into detail and explain which goals were achieved, how areas of responsibility were divided, including who was responsible for the budget, etc.
Include your education and specialization areas. You can also highlight particularly relevant subjects and/or important assignments that show your talents, skills and goal achievements.
Include courses, volunteer positions, volunteer work and/or any achievement for which you've received an award.
While hobbies and personal interests may be relevant, they must show that you've developed job-related skills from pursuing your personal interests.
Success: Describe at least three successful experiences where you've felt a sense of accomplishment, achieved concrete goals and done something you're proud of.
Tip:
Use concrete examples as a starting point. For instance, think about work tasks you've performed well.
Keep this "competency bank" available on your phone so you can continually update it by adding new skills, projects, tasks, etc.
  In order to fill out column 4 on applied skills, we recommend that you first complete Module 3 – Find your strengths.  
This exercise can give you a few light bulb moments when you suddenly realize what your strengths and skills are and can describe how they produced positive results.
When you've filled out the worksheet, look for similarities from the list of areas you've worked with previously (preferably four to six areas).
On the worksheet, create headings and write down your actual experiences, knowledge and skills in each area.
Tip:
Practice speaking out loud about your competency areas both when you're alone and with another person.