The venue
The conference will be held at The University of Tromsø, Teorifagbygget Hus 1, Solhallen (blue arrow). The main entrance and registration is at Fakultetet for Humaniora, Samfunnsvitenskap og Lærerutdanning (orange arrow) from where you can walk through a hallway showcasing the posters to Solhallen.
How to get there
We have arranged for bus transport between the hotels and the venue at UiT. They are exclusively for Bioprosp participants.
From the city centre the bus will stop to pick up passengers at Prostneset (closest stop to Clarion Hotel the Edge), Scandic Ishavshotel and Comfort Express Hotell, before going to the University.
The bus will pick you up to go back to the city centre from the same place as you are dropped off outside the University (green arrow). It will then stop at Comfort Express Hotell, Scandic Ishavshotel and Prostneset. The bus stop also serves the local public transport in Tromsø.
See the venue and bus stop at the University here: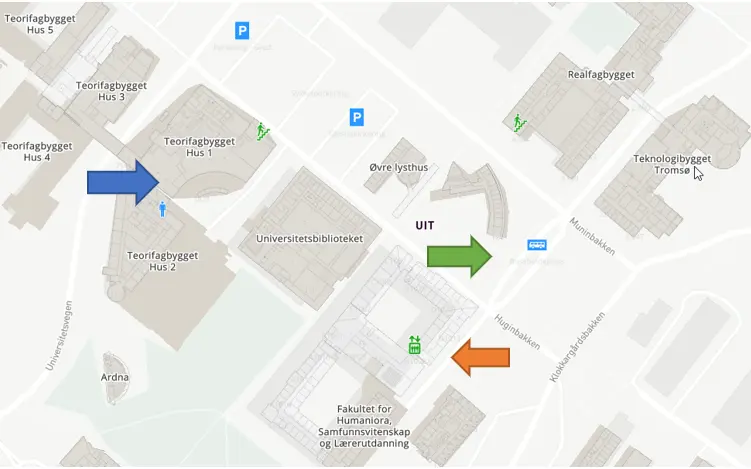 Departure times
Monday February 25th
From Prostneset – 11:30
From UiT – 17:20
Tuesday February 26th
From Prostneset – 08:30
From UiT – 16:30
Wednesday February 27th
From Prostneset – 08:30
From UiT – 12:45
Local bus service
You can also get to UiT using the local bus transport, line 20, 33 and 34. You can find the transport planner for Tromsø bus services here.